Childcare
Reservations can be made for preschool children aged 6 months and older.
(Preschool children are not allowed to enter this performance.)
【Application for childcare】
Asuka Corporation
Please contact by phone or inquiry form.
[Phone] 0120-165-115 (Reservations accepted: 10am-5pm except Sat, Sun, and holidays)
[Inquiry form] https://ws.formzu.net/fgen/S8221706/
Profile
Condors
A dance company formed in 1996 made up entirely of men. 
Dressed in their trademark school uniforms, they create a stage full of their own unique worldview through a cross-genre approach that combines dance, live music, puppetry, visual image, and comedy. Performed not only in Japan but also in more than 30 countries around the world. In addition to dance, they have performed and choreographed for many plays, TV, radio, movies, and fashion shows. In 2016, they celebrated their 20th anniversary and held a two day solo performance at NHK Hall as the 20th Anniversary Super Special Grand Appreciation Performance. In addition to contributing to society through contemporary dance through a variety of approaches, including performances by "Handles," a dance team for the disabled from Saitama Prefecture, the company has recently been focusing on the SDGs. A remarkable dance group that is unique in the Japanese performing arts world.  http://www.condors.jp/
---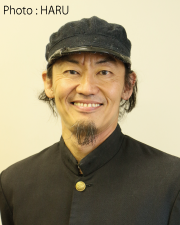 Ryohei Kondo
Leader of the Condors, choreographer, dancer. Raised in Peru, Chile and Argentina. In 1996, launched his own dance company, Condors, for which he composed and choreographed all the works. He has been in the spotlight for his work on TBS's『Jounetsu Tairiku』, NHK's『Chikyu Ichiban』, and the cover of『AERA』. He has appeared as choreographer for NHK's educational program『Karada de Asobo』's,「Kondo-sanchi no Taisou」,『Asada! Kanada!』's,「Kondo-san to Taisou」, NHK's general program『Salaryman NEO』's,「TV Salaryman Taisou」, also choreographed for NHK's television series『Teppan』, and NHK's historical drama『Idaten』, his friendly personality and dance style attracts wide range of audiences. He has been active as an expressionist in many fields, including theater productions written and directed by Hideki Noda, films directed by Tetsu Maeda and Takashi Miike, and TV commercials. He also contributes to society through dance with diverse approaches, such as the "Condors' Play Education Plan," an audience-participation performance for children as young as 0 years old, and the "Handles," a dance team of people with disabilities that performs in collaboration with Saitama Prefecture. He is a part-time lecturer at Rikkyo University and gives performances and workshops throughout Japan. He has received the 4th Asahi Performing Arts Awards, Shuji Terayama Award, The 67th Art Encouragement Prize of the Minister of Education, Culture, Sports, Science and Technology, and the 67th Yokohama Culture Award. Dog lover. Artistic director of the Saitama Arts Theater.