SAITAMA ARTS FOUNDATION (SAF), as the designated administrator of SAITAMA ARTS THEATER and SAITAMA HALL, strives to promote performing arts and culture more, and for Saitama prefectural citizens to have full realization of affluent life in the local community. To achieve them, our missions are;
To create and promote performing arts such as plays, dance, music of high artistic quality under the artistic director Yukio Ninagawa
To provide spaces for cultural activities and presentations by renting our halls, rehearsal rooms, etc.
To support cultivating the theatrical human resources and creating their cultural activities by offering educational programs such as lectures on technical aspects of theatre.
Artistic Director at Saitama Arts Theater YUKIO NINAGAWA (1935 – May 12, 2016)
Saitama Arts Theater – Creating a place to be cherished and enjoyed by all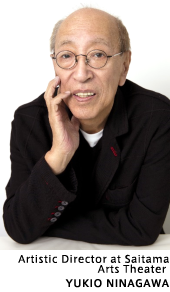 When I became Artistic Director at Saitama Arts Theater, the first thing I wanted to do was to create a place that could be enjoyed and loved by our local people. At that time, though the theater had played host to a number of fantastic, avant-garde performances from all over the world, these were not well attended and most local residents were unaware of these works. We decided that, as a publically-supported organization, the first thing we needed to do was to entice our neighbors to come and see for themselves what was happening at the theater. To this end, we opened up rehearsals to tours and held a series of free public talks. I also wanted to make the theater a place that visitors could enjoy on a number of levels. While some people are attracted by famous performers, others are interested in the works and themes or come to a show to see how a famous work will be staged. I wanted to create a theater that could cater to all these diverse tastes.
One of the responsibilities of a public theater is to stage works that private-sector theaters or companies are unable to put on, the kind of works that, though highly accomplished, may nonetheless find it difficult to turn a profit. Since 1998, Saitama Arts Theater has been staging all of Shakespeare's plays in our "Shakespeare Series." Some of the Bard's more obscure works rarely get a showing, so staging all of Shakespeare's plays, including the lesser-known ones, is one of the major roles a public theater can play.
When considering the kind of repertoire that could only be staged by public theatres, I realized that cultural education was not the only thing to consider – it is also important to grab people's attention and stimulate their imagination. To this end, soon after becoming Artistic Director we launched the "Saitama Gold Theater," a theatrical group catering solely to people aged 55 and over. By harnessing the energy of people with a lot of life experience, I thought we could create experimental works that push the boundaries of what a performance could be. The performers themselves are also afflicted by the numerous problems that face our ageing society, from physical decline to mental issues, so putting on a show involves hard work, but at the same time,the performers have their own remarkable acting style that differs from that of professional actors and produces many poignant moments.Also, given how TV and other large-scale media only seems to feature actors already well-known, I think public theaters have a responsibility to give younger, unknown actors a chance to shine. We established our "Saitama Next Theater" for the purpose of nurturing the young performers who will carry Japanese theater into the next generation.
We also produce new, original works and family-oriented performances. By staging musicals and other works of high artistic quality that parents and children can enjoy together, I hope we can provide an arena where people can experience the best in world theater from a young age onwards. At the same time, I hope we can help children to better appreciate theatrical performances. Public theaters need to cultivate the next generation of theater goers in order to guarantee the future of our playhouses. Public theaters also have a responsibility to introduce the latest in global performance. For this reason, we try to create a program of plays, dance and music that remain on the cutting edge whilst retaining their popular appeal. With regards to dance in particular, we strive to introduce the latest in global, avant-garde performance and have been running our own unique line-up since the theater first opened its doors.
We work hard on our line-up and performances in order to ensure all our visitors can enjoy a fantastic audio and visual experience that makes them feel glad to have visited our theater. It is my mission to ensure that our theater remains a place where culture, human ingenuity and the performing arts can survive and flourish.
Yukio Ninagawa
Artistic Director at Saitama Arts Theater
PROFILE YUKIO NINAGAWA
(1935 – May 12,2016)
He joined the Seihai Theatre Company as an actor in 1955. He made his directorial debut in 1969 with Shinjo Afururu Keihakusa written by Kunio Shimizu. Later, he set up his own theater companies, Gendaijin-Gekijo and Sakurasha. He first directed the commercial theatre production, Romeo and Juliet, in 1974 at the Nissay Theatre. Since then, as Japan's most significant director, Ninagawa has directed a wide range of productions including contemporary Japanese plays, classic stage works by writers including Chikamatsu and Jun'ichiro Tanizaki, and Shakespearean and Greek tragedies. In 1983 he directed his first European production, Medea; since then he has staged at least one production a year overseas. He is a member of Shakespeare Globe Council at London's Globe Theatre and was awarded Commander of the Order of the British Empire in 2002. Ninagawa has received numerous theater and educational awards in Japan including the Asahi Award, the Asahi Performing Arts Awards Grand Prix, the Yomiuri Theatre Awards, and the Kinokuniya Drama Awards in the individual category as well as others. He became Artistic Director at Saitama Arts Theater in 2006 and has since founded the "Saitama Gold Theater" which features performers aged 55 or over, and the "Saitama Next Theatre", a project to nurture the next generation of young actors. In 2010 he was received a gold medal from The Kennedy Center International Committee. Granted the Order of Culture.
Artistic Program
THEATER
Under the guidance of the internationally-renowned drama director Yukio Ninagawa, who has held the post of Artistic Director since 1996, Saitama Arts Theater is engaged in a number of ambitious theatrical projects as a public theater. For example, our "Sai-no-kuni Shakespeare Series" aims to stage all of Shakespeare's 37 plays. Other projects include the "Saitama Gold Theater," whose performers are all aged 55 or over, and the "Saitama Next Theatre," which showcases the next-generation of young actors. We create a fully-rounded line-up that gives people from all walks of the life the chance to enjoy a wonderful theater experience, such as our programs of staging works by internationally-active directors, or the "Sai-no-kuni Family Theater" aimed at families with young children.
Saitama Gold Theater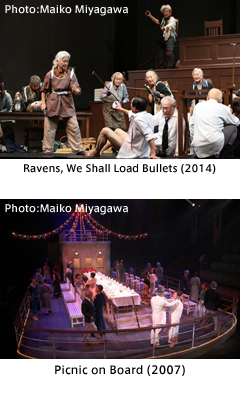 The "Saitama Gold Theater" was launched in 2006 as a performing group for senior citizens under the idea of Ninagawa, "Old age is a proof that you experienced deep emotions and many days of ordinary lives. Physical expression using this personal history might help one to discover one's new prospective." This troupe features performers aged 55 or older (the average age as of 2015 is 76). The group has performed new works written specially for them by leading contemporary Japanese playwrights. In recent years, they were invited to perform "Ravens, We shall Load Bullets" at Maison de la culture du Japon à Paris in 2013, Kwai Tsing Theater Auditorium, Hong Kong as a part of New Vision Arts Festival, and at Théâtre de la Ville, Paris in 2014. Saitama Gold Theatre as a globally-unique troupe has been receiving huge attention.
Saitama Gold Theater History

open

2006
"Pro-cess"
"Pro-ccess2" Karasu yo Oretachi wa Tama wo Komeru (Ravens, We Shall Load Bullets)
2007
Senjo no Picnic (Picnic on Board)
2008
"Pro-ccess3" Omoide no Nippon Ichimannen
Between 95 and 97 kg
2009
95kg to 97kg no Aida (Between 95kg and 97 kg)
Ando-ke no Ichiya (My Night at Ando's)
2010
Seichi (Holy Place)
2011
Route 99
2012
"The Factory 1" The Swan Song, The Dressing Room
2013
Karasu yo Oretachi wa Tama wo Komeru (Ravens, We Shall Load Bullets)
"The Factory 3" Work in Progress
2014
KOMA'
Karasu yo Oretachi wa Tama wo Komeru (Ravens, We Shall Load Bullets)
Saitama Next Theatre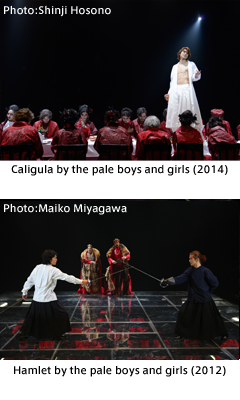 Beginning in 2009, the "Saitama Next Theatre" features young actors and aims to nurture the next generation of Japanese performers. While young performers nowadays are attracted to forms of storytelling and expression that extend from their everyday experiences, Ninagawa has a message for his troupe: "When trying to close the gap between performer and role, we mustn't focus on the thoughts and feelings of our daily lives. Rather, we should use the powers of the imagination to evoke different feelings and worlds. Unless we do this, the power of the theater will wither away." With this thought in mind, Ninagawa's young group continues to perform groundbreaking theater, from early-modern Japanese dramas to Greek tragedies and Shakespeare plays. The average age as of 2015 is 25.
Saitama Next Theatre History

open

2009
Sanada Fuunroku (Tale of the Sanada Family)
2010
Utsukushikimono no Densetsu (Legend of the Beauty)
2012
Hamlet by the pale boys and girls
"The Factory 2" Tennessee Williams: "The Long Goodbye" "Auto-Da-Fe"
"Talk to Me Like the Rain and Let Me Listen…" "This Property Is Condemned"
2013
Oedipus Rex by the pale boys and girls
"The Factory 4" Nine chapters based on the works of Wolfgang Borchert
2014
Caligula by the pale boys and girls
2015
King Richard II
Sai-no-Kuni Shakespeare Series
Under the direction and supervision of Artistic Director Yukio Ninagawa, the "Sai-no-kuni Shakespeare Series" aims to stage all of Shakespeare's 37 plays. Beginning with Romeo and Juliet in 1998, the series has put on such popular works as Hamlet and Macbeth as well as plays rarely staged in Japan, such as Anthony and Cleopatra and the epic trilogy Henry VI. Also popular is the "All Male Series," which stages plays as they were originally performed, with an all-male cast. Starting with our co-production of King Lear with the Royal Shakespeare Company, the series has been successfully staged overseas such as in Stratford-upon-Avon, London, New York, and Seoul. Now it represents one of the most pioneering Shakespeare productions in Asia, and keeps receiving global attention.
Sai-no-Kuni Shakespeare Series History

open

1998
Romeo and Juliet
1998
Twelfth Night
1999
Richard III
1999
King Lear
Co-production: the RSC
International tour: The Royal Shakespeare Theater, Stratford-upon-Avon and the Barbican Theater, London, UK
London, UK
2000
A Midsummer Night's Dream
2000
The Tempest
2000
The Winter's Tale (OUDS)
2001
Macbeth


International tour: BAM Howard Gilman Opera House, New York, US (2002)

2001
The Merry Wives of Windsor
2001
Love's Labour's Lost (OUDS)
2001
Hamlet
2003
Pericles


International tour: The Royal Shakespeare Theater, London, UK

2004
Titus Andronicus
2004
As You Like It
2006
The Comedy of Errors
2006
Coriolanus


International tour: The Barbican Theater, London, UK

2007
Love's Labour's Lost
2007
Othello
2008
King Lear
2008
Much Ado About Nothing
2009
The Winter's Tale
2010
Henry VI
2010
The Taming of the Shrew
2011
Anthony and Cleopatra


International tour: LG Arts center, Soul, Korea

2012
Cymbeline


International tour: The Barbican Theater, London, UK

2012
Troilus and Cressida
2013
Henry IV
2013
The Merchant of Venice
2014
Julius Caesar
2015
King Richard II
DANCE
Saitama Arts Theater has long been a home to the best in Japanese dance. We have put together a program that surveys the international dance scene from the 1980s onwards, including works by Pina Bausch, William Forsythe, Jiří Kylián and many others. We have also staged a number of internationally co-produced works, including Pina Bausch Tanztheater Wuppertal's "Tenchi." In recent times, while bringing you the latest in dance performance from Japan and overseas, our line-up has tried to reflect the state of contemporary dance, with its sense of depth and a diversity that transcends genres to incorporate aspects of performing and visual arts from all over the world.
MUSIC
We try putting together a musical line-up that brings out the best of our highly-acclaimed concert hall (604 seats) for its acoustics. Our reputation as a home for piano music was cemented by the "100 Pianists" series and this has now been followed by the "Piano Étoile Series." We bring you the best in music performances; the internationally-renowned "Bach Collegium Japan," the ensembles featuring top-class musicians and concert series such as "Artist's NOW" and "Masterpieces for the Next Generation", contributing to enrich the music scene in Japan.
TRADITIONAL PERFORMING ARTS
Since its opening, Saitama Arts Theater has been introducing the best of Japanese traditional performing arts, such as Noh theatre, kyogen and rakugo. In particular, aiming to be a launch pad for new comic performances, our theater periodically holds rakugo shows. We also established our "Sai-no-kuni rakugo Grand Prize" for the best young rakugo storyteller of the year selected by the audience's vote. Previous winners have gone on to become some of the best and most popular storytellers of today, and our theater is now attracting attention as a breeding ground for the rakugo stars of the future.
EDUCATIONAL ACTIVITES
Our theater works together with the local community to arouse an interest in the theatrical arts through the programs that allow parents and children experience and join together. We are also engaged in cooperative programs with local schools, universities and other educational institutions.
Kingdom of Orchestra
This highly-enjoyable musical concert offers a variety of programs for families to spend quality time together (the concert is open to children aged 3 and over). As well as experiencing professional orchestral sound, children can also enjoy playing music themselves at the concert's hands-on corner.