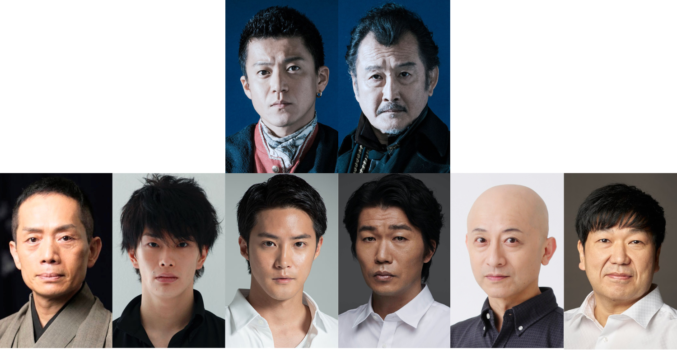 The Sai-no-Kuni Shakespeare series finally came to a completion!
Since its start in 1998, the Sai-no-Kuni Shakespeare Series, under the artistic direction of Yukio Ninagawa, has presented a succession of productions both in Japan and abroad with the aim of presenting all 37 of Shakespeare's plays completely. In December 2017, the series resumed with "Timon of Athens," directed by actor Kotaro Yoshida, who became the series' second artistic director, and "King John" was scheduled to be performed in June 2020 as the 36th production before its completion. However, it was cancelled due to coronavirus infection. Although the series came to an end with the 37th production, "All's Well that Ends Well," in May 2021, but Yoshida strongly felt that the series could not end without a production of "King John," and so it has been decided that the series will once again be performed from December 2022 to February 2023.
In a world of chaos, kings and citizens alike search for a way to survive…
A fantastic historical drama about people driven by war!
Shun Oguri returns to the series after 16 years to play the lead role of "The Bastard," a young man with a cynical view of the world who is full of vitality and humor. This will be his fourth play. Yoshida Kotaro, who also serves as director, will play the title role of "King John."(※)
In addition, this year's production will be an "all-male" performance, in which all roles, including the female characters, will be played by male cast members, as has often been since the days of former Artistic Director Yukio Ninagawa. The three women, whom director Yoshida describes as "an exceptional woman," are played by Kyozo Nakamura as "Dowager Empress Elinor", King John's mother; Reo Tamaoki as "Constance", who is struggling to make her young son Arthur as king; and Junmai Uemoto as "Blanche", King John's niece, who is to marry the Crown Prince of France.
The series also features a diverse cast of attractive actors, from young actors making their first appearance in the series to regulars, including Shunya Shiraishi as "Crown Prince Louis," the son of King John of France, Tsutomu Takahashi as "Hubert," a vassal of King John, and Akiyoshi Sakurai as "King of France," the antagonist of King John. 
Please look forward to "King John," the final production in the Sai-no-Kuni Shakespeare Series.
(※)Some of the performers and casts are different from the Tokyo performance.
-Comments from the director and cast-
■Kotaro Yoshida / Director, Cast
Sai-no-Kuni Shakespeare Series "King John"
Regrettably, all performances scheduled for the year before were cancelled due to the Corona disaster.
Although the impact of Corona is still unpredictable, the cast and crew, including lead actor Shun Oguri, have interpreted the cancellation of the 2020 production as two more years of preparation time, and are moving forward with enthusiasm to prepare for the revenge match.
"King John", which has rarely been performed in recent years and is even considered the worst of Shakespeare's works.
I am both excited and a little anxious to see what kind of light the collaboration between the Sainokuni Shakespeare team, who have succeeded Yukio Ninagawa's vision, Shun Oguri, who returns to the series after a 15-year absence, and a strong cast of first-time participants will shed on this work that was called a bad production, I can't stop shaking with excitement.
Will it be a bad production or not?
Please come to the theater to find out.
■Shun Oguri / Starring as Philip the Bastard 
The performance, which should have been over by now, was able to be performed again after a lapse of time.
Kotaro for bringing me back to this place again, the special Sai no Kuni Shakespeare series for me.
Customers looking forward to it.
I really appreciate it.
After being away from the production for a while, I am not sure if I am up to the task, but I have to do it, I have to do it.
Please, Ninagawa-san, don't be angry and watch over us.
So please come and witness what will happen afterwards.
---
Summary
John, King of England, is visited by a smooth-talking man who claims to be the bastard of Richard I, the previous king. John's mother, Empress Elinor, decides to recognize the bastard, "Philip the Bastard," as her relative. Then a messenger from King Philip II of France arrives. John, who had replaced the young Arthur, the rightful heir to the throne, as King of England, came to demand that he cede the throne to Arthur and hand over his lands. King John refuses, and raises an army to fight the French with his bastard son following him.
The bastard, who has successfully joined the royal family, is drawn into the war, snickering at the foolish behavior of those in power.
King John, who is annoyed by Arthur's presence, gives a terrible and ruthless order to his trusted advisor, Hubert.
This decision greatly upset the fate of King John and the bastard.
The world is in turmoil, driven by the agendas of those in power……