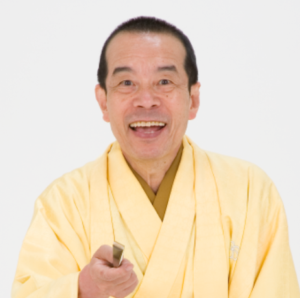 Kikuo Hayashiya
Born in October 1937, Nihonbashi, Chuo-ku, Tokyo, family is a general wholesaler.
In 1960, apprenticed to Mikisuke Katsura III and took the name Kikuo Katsura
In 1961, after the death of Mikisuke, changed his name to "Kikuzo Hayashiya" and became a student of Shozo Hayashiya VIII.
In 1965, Promoted to Futatsume.
In 1969, he was selected as a regular member of "Sho-ten". The host at that time was Takehiko Maeda.
In 1973, promoted to Shinuchi.
In 1992, Appointed as a director of the Rakugo Association of Japan
In 2007, he passes the name "Kikuzo" to his son, Kikuo Hayashiya, and assumes the name "Kikuo", which was publicly solicited at the Sho-ten.
In 2010, 50th anniversary of performing career; appointed Advisor of the Rakugo Association of Japan
◆In 2007, Parent and Child Grand Prize Selection Committee Member's Special Award
---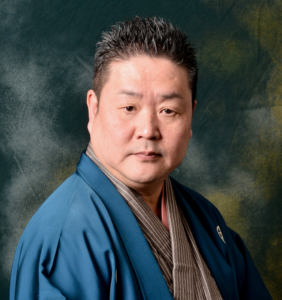 Shoushi Tatekawa
Born in 1963, Chikushino City, Fukuoka Prefecture
Joined INAX after graduating from Fukuoka University. Worked as a salesman.
In 1988, Joined Danshi Tatekawa VII under the name of "Shoushi".
In 1997, promoted to Futatsume.
In 2008, promoted to Shinuchi (20th year since initiation) and changed his name to "Shoushi"(different kanji character).
◆In 2002, NHK New Comer's Performer Award, Special Jury Prize
◆In 2003, Nikkan Tobikiri Rakugo Club Excellence Award
◆In 2008, Sainokuni Rakugo Grand Prize
◆In 2009, Yokohama Cultural Award for Arts and Culture
---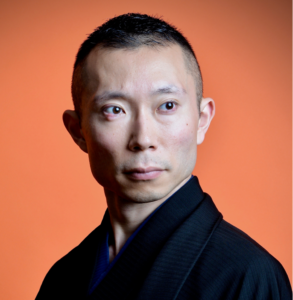 Shinemon Katsura
Born in February 1983, Narashino City, Chiba Prefecture
In 2006 joined Harusame-ya Raizo under the name of "Raita".
In 2010, promoted to Futatsume.
In 2016, transferred to study under Shinji Katsura and became "Shinza Katsura".
In 2020, promoted to Shinuchi! Changed his name to "Shinemon".
Running since the Futatsume Unit "Narikin" times, a promising young Shinuchi!!
◆In 2018, Winner of the 17th Sagamihara Young Rakugo Storyteller Championship
---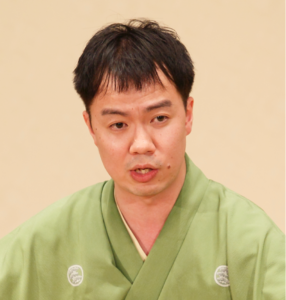 Kisshou Tatekawa
Born in 1984, Kyoto, Japan
After graduating from high school, wanted to become a comedian, but when hearing Shinosuke Tatekawa's CDs, decided to become a Rakugo artist.
In 2010, joined Dansho Tatekawa, under the name of "Kisshou".
In 2012, promoted to Futatsume in an unusually short period, only one and a half years after entering.
He is a "Maverick" who expresses himself freely and brilliantly.
◆In 2021, Shibuya Rakugo Grand Prize, Shibuya Rakugo Creative Grand Prize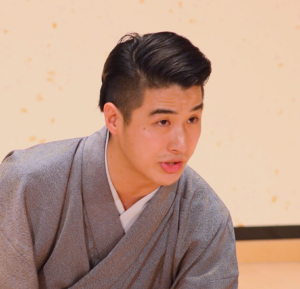 Keiki Hayashiya
Born in 1991, Ogawa-machi, Hiki-gun, Saitama
In 2010, Joined Kikuo Hayashiya, under the name of "Keiki".
In 2015, promoted to Futatsume.
Tourism Ambassador of Ogawa Town and Higashi Matsuyama City Ouendan, where his alma mater, Matsuyama Prefectural High School, is located.