Gorgeous cast reunites for Yukio Ninagawa's masterpiece!
『Musashi』the masterpiece of director Yukio Ninagawa, who passed away in May 2016, will be revived in 2021 as a memorial performance before the seventh anniversary of Ninagawa's death.『Musashi』was written by the late playwright Hisashi Inoue, and was first performed in 2009, depicting the preciousness of life and the importance of breaking the cycle of revenge. The following year, the play was invited to London and New York, and received great applause from British and American theater critics known for their dryness, as well as from the packed audiences. It was very unusual for a leading newspaper such as the British「Independent」to give a five-star rating to a foreign production with subtitles. Its reputation as a highly original form of entertainment that incorporates laughter into a serious theme has traveled around the world, and it has been invited to perform in Singapore, Seoul, and Shanghai. As of now, it is a masterpiece stage that has attracted about 200,000 people on a total of 210 stages in 10 cities in 6 countries around the world.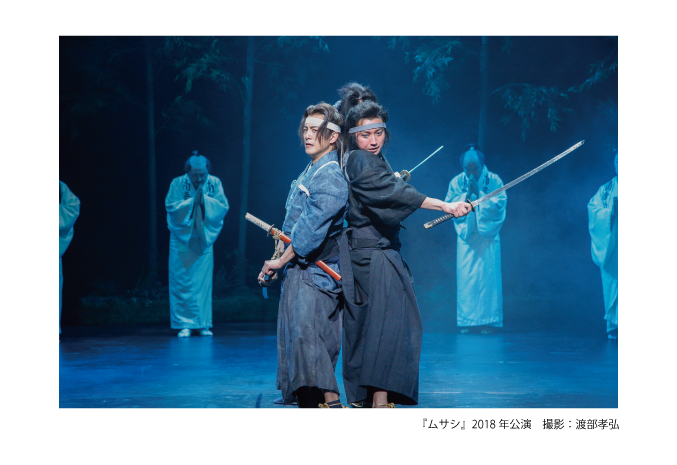 This time, in addition to Ninagawa's original direction, the "director" will be Kotaro Yoshida. He has participated in many Ninagawa productions, including this one, and in 2016 accepted the baton of Artistic Director of the Sai no Kuni Shakespeare Series. Tatsuya Fujiwara has consistently played the role of Musashi Miyamoto since the first performance. He will lead the production as the leader of the group with his established acting skills. The rival of Musashi Miyamoto is played by Junpei Mizobata, who is known not only for his work on stage and in movies, but also for his memorable role as Yamaki in Sunday Theater's「Heaven and Hell」. In addition, the spectacular cast essential to Ninagawa's productions will be reunited, including Anne Suzuki, who recently won the Grand Prize and Best Actress Award at the 28th Yomiuri Theater Awards, Kayoko Shiraishi, who has an solid presence on stage and in film, and Yukio Tsukamoto, who has appeared in many productions from Shakespeare to contemporary drama.
Summary
The 17th year of Keicho (1612), Noon on April 13th, lunar calendar. Funashima Island off the coast of Kokura, Buzen Province. In the midday sun, Musashi Miyamoto (Tatsuya Fujiwara) and Kojiro Sasaki (Junpei Mizobata) stared at each other sternly. Kojiro pulled out his favorite sword「The Drying Pole」and Musashi held a wooden sword hidden behind his back in ready position. Musashi suddenly spoke up「This game has been decided as your loss」. Having been kept waiting for almost half a day after the appointed time, Kojiro's frustration had already reached its peak. Kojiro moved and the game was decided by a single stroke. Musashi was the winner. Musashi shouts to the doctor who is in charge of the autopsy, "Take care of him!" and leaves Funashima like a gale. The great battle of the century, which would later be called the「Duel of Ganryu Island」after Kojiro Sasaki's「Ganryu」(Kojiro Sasaki's sword style), ended in a flash. And the story begins from here……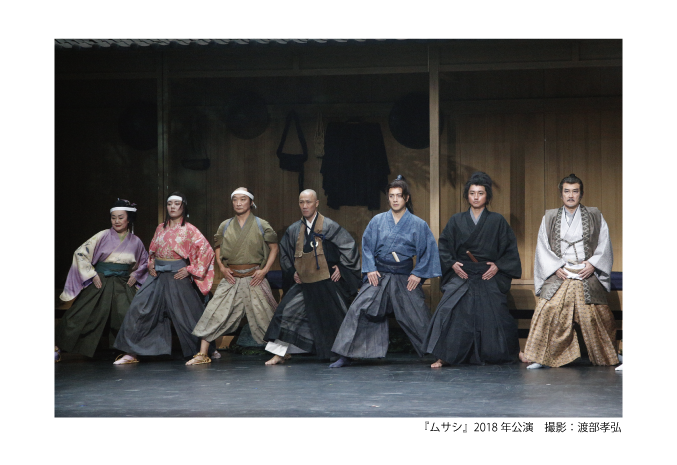 Six years after the duel on Funashima, in the summer of 1618. In Kamakura Sasukegaya, Genjisan Horyuji Temple. In this small, nameless temple, a Zen meditation was about to take place. With Daitokuji Temple elder Soho Takuan(Yukio Tsukamoto) as the guru, also features Noh fanatic Munenori Yagyu(Kotaro Yoshida), the temple's grand master Mai Kiya (Kayoko Shiraishi), Otome Fudeya (Anne Suzuki), and even Musashi Miyamoto, the temple's master of ceremonies, participated. But then Kojiro appeared. Kojiro, who barely survived on Funashima, pursued Musashi's path out of hatred for him, and finally captured his nemesis at Horyuji Temple. This time, Kojiro wants Musashi to settle the fight on a "50-50" basis. Thus, the two greatest swordsmen in the world, Musashi Miyamoto and Kojiro Sasaki, are promised to face each other with their lives again on the morning of the third day………