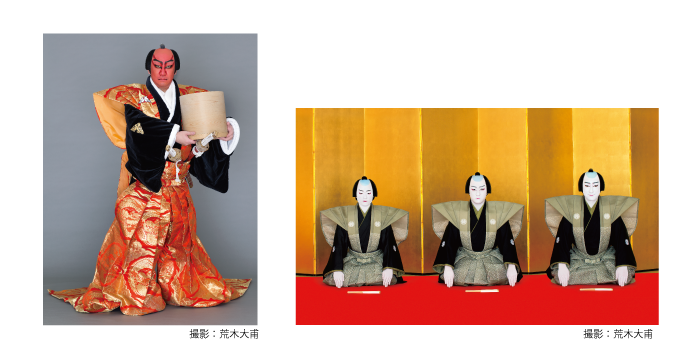 SHOJO
-Natural Lyrical Ensemble and Hayashi Percussion Ensemble-
Cast
Shojo, a wine sprite....................Nakamura Kinnosuke
Shojo, a wine sprite....................Nakamura Hashinosuke, former Kunio
Shojo, a wine sprite....................Nakamura Fukunosuke, former Muneo
The Sake Seller....................Nakamura Baika, former Shikimatsu
KOJO
-Announcing former Nakamura Hashinosuke's succession to Nakamura ShikanVIII
former Nakamura Kunio's succession to Nakamura Hashinosuke IV
former Nakamura Muneo's succession to Nakamura Fukunosuke III
Cast
Nakamura Shikan, former Hashinosuke
Nakamura Hashinosuke, former Kunio
Nakamura Fukunosuke, former Muneo
And other principal actors
Ichinotani Futaba Gunki
KUMAGAI JINYA
-One Act-
Cast
Kumagai no Naozane....................Nakamura Shikan, former Hashinosuke
Sagami, Kumagai's wife....................Nakamura Senjaku
Tsutsumi no Gunji..........Nakamura Hashinosuke, former Kunio & Nakamura Fukunosuke, former Muneo
Lady Fuji....................Ichikawa Komazo
Midaroku, an old stonemason....................Nakamura Karoku
Minamoto no Yoshitsune....................Nakamura Baigyoku
Date

Jul.28.2017 / 0:30pm & 5:00pm

*Door opens 30mins prior to the show.

Venue

Kumagaya Cultural Center Sakuramate / Sun Hall

ACCESS:
By train >> Kagohara station on JR Takasaki Line (15mins walk from the South Exit)

Presented by

Saitama Arts Foundation

Co-presented by

Kumagaya City Cultural Foundation

Produced by

Shochiku

Earphone-guide



The "Earphone-guide" provides essential translation of dialogue and lyrics, as well as explanations relating to the stories, music, dance, actors, properties and other aspects of Kabuki & Bunraku that may be difficult for non-Japanese visitors to understand. Comments are carefully timed to coincide with the action on stage.

■Fee: 700yen


http://www.eg-gm.jp/e_guide/eng_service.html

Nursery

Reservation is necessary.
Please contact
KOTOBUKI KIDS ROOM.
TEL: 048-532-2916 (10:00am-4:00pm except Sat, Sun, and Holiday)
FAX: 048-532-2895
TICKET INFO
SOLD OUT

PRICES

S 6,500yen A 4,000yen B 2,000yen U25* (seat category limited to A) 1,000yen
SAFMembers S 6,000yen A 3,600yen

*Ages 25 and under/Proof of eligibility must be shown for U25 concessions at the entrance of the theater/hall on the day of the performance.

---

S: 1st floor stalls
A: 2nd floor balcony
B: 2nd floor side balcony

ON SALE

<Public> Jun.3.2017 / 10:00am-
<SAFMembers> May.27.2017 / 10:00am-

*Ticket sales at Sakuramate box office opens at 10:00am Jun.3. Please note that SAFMembers tickets are NOT purchasable at Sakuramate.