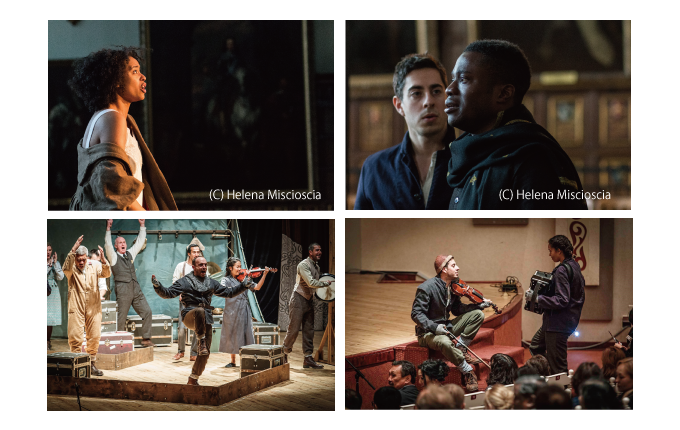 About Shakespeare's Globe
---
Shakespeare's Globe, a faithful reconstruction of the open-air playhouse for which he wrote many of his greatest plays, situated on Bankside, London, has become one of the most popular visitor destinations in the UK today. Under the leadership of Artistic Director, Dominic Dromgoole, the theater season plays in repertory from April to October annually, and has gained an international reputation for performance excellence. Globe Education, directed by Patrick Spottiswoode, is one of the largest arts education departments in the country, and shares its approaches to the teaching of Shakespeare with over 100,000 students a year. Shakespeare's Globe Tour and Exhibition is open all year round and is the world's only permanent exhibition dedicated to Shakespeare's theatrical career. For the last five years Globe Theatre On Tour have taken productions to castles, festivals, parks and town squares. Previous productions have included Henry V, Anne Boleyn, As You Like It and King Lear and The Taming of the Shrew. This production, Hamlet, is part of a two year tour to every country in the world, Globe to Globe.
SHAKESPEARE'S GLOBE official HP>> http://www.shakespearesglobe.com/
GLOBE TO GLOBE HAMLET official HP >> http://globetoglobe.shakespearesglobe.com/
Synopsis
---
Hamlet, Prince of Denmark, has not succeeded his father as King. On the throne is his uncle Claudius, who married Queen Gertrude immediately upon the death of her husband, the first King Hamlet. At midnight the ghost of the dead King appears to his son on the battlements of the castle and commands revenge.
Hamlet, unsure at first, simulates madness and asks for a performance of a play with a plot much like his father's murder, so that he can see how the King responds. Claudius, deeply alarmed, plans to send Hamlet to England. However, before Hamlet leaves, he kills Polonius (the father of Ophelia, the woman Hamlet loves) who is hiding behind a curtain in Gertrude's room.
Two messengers conduct Hamlet towards the voyage to England, bearing letters that order his death when he arrives. Ophelia's brother Laertes, enraged by the news of his father's death, finds that his sister is helplessly mad, and swears to kill Hamlet. Ophelia drowns herself, and Hamlet returns to Denmark in time for her burial. Later, at a fencing match where Laertes seeks to stab Hamlet with a poisoned rapier, both men are wounded. Queen Gertrude drinks, in error, the poisoned wine Claudius has prepared for Hamlet. Laertes and Gertrude die; Hamlet, after killing Claudius, collapses in the arms of his friend Horatio and dies.
Dates

Aug.19.2015 / 6:30pm
Aug.20.2015 / 2:00pm

Duration

2h45mins (including 15mins intermission)

Venue

Saitama Arts Theater / Adaptable Theater

Directors

Dominic Dromgoole, Artistic Director of Shakespeare's Globe
Bill Buckhurst

Written by

W. Shakespeare

Designer

Jonathan Fensom

Composer & Music director

Bill Barclay

Additional original music

Laura Forrest-Hay

Cast

John Dougall: LAUDIUS & POLONIUS
Ladi Emruwa: HAMLET
Phoebe Fildes: OPHELIA / GERTRUDE / HORATIO / ROSENCRANTZ
Miranda Foster: GERTRUDE
Naeem Hayat: HAMLET
Beruce Khan: HORATIO / ROSENCRANTZ / LAERTES / GUILDENSTERN
Tom Lawrence: HORATIO/ ROSENCRANTZ/ LAERTES/ GUILDENSTERN
Jenniffer Leong: OPHELIA/ HORATIO / ROSENCRANTZ
Rawiri Paratene: CLAUDIUS & POLONIUS
Matthew Romain: HORATIO/ ROSENCRANTZ/ LAERTES/ GUILDENSTERN
Amanda Wilkin: OPHELIA/ GERTRUDE / HORATIO / ROSENCRANTZ
Keith Bartlett: CLAUDIUS/ POLONIUS

*Cast of the day (tbc)

Presented by

Saitama Arts Foundation

In cooperation with

British Council

Nursery

Childcare services for 2 year-old and older children are available during the performance presented by the Foundation. Reservation is necessary by one week before the performance. Please contact KOMAMU.
Tel: 048-256-1666 (9am-6pm except Sat, Sun, and Holiday)
1,000 yen / a child