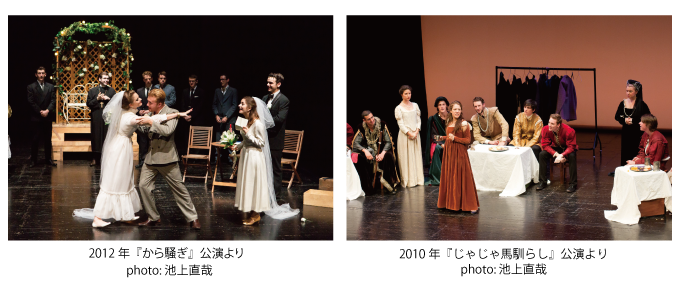 "In truth, fair Montague, I am too fond."
Near future 'Verona'. Violence reigns, and only through violence can order be regained. Politics is polarised beyond all compromise. Gay marriage is legal —for now. But as the country sleepwalks into right-wing dystopia, there's no guarantee it will stay that way. One night, Romeo and Juliet, women from two warring households, fall in love and in lust. They arrange to get married immediately.
MORE about OUDS & the Production → LINK to OUDS official HP!


Date

Aug.22.2015 / 1:30pm

Venue

Saitama Arts Theater / Adaptable Theater

Written by

W. Shakespeare

Directed & Performed by

Oxford University Dramatic Society

Presented by

Saitama Arts Foundation

Nursery

Childcare services for 2 year-old and older children are available during the performance presented by the Foundation. Reservation is necessary by one week before the performance. Please contact KOMAMU.
Tel: 048-256-1666 (9am-6pm except Sat, Sun, and Holiday)
1,000 yen / a child

Japan Tour 2015

<TOKYO>
Aug.19.2015 - Aug.20.2015 @ Tokyo Metropolitan Theatre
TICKET INFO
TICKET AVAILABLE AT BOX OFFICE ON THE DAY OF PERFORMANCE

PRICES

2,500yen
U25*: 2,000yen
High School Students & Under: 1,000yen
*Ages 25 and under/Limited number of seats available/Proof of eligibility must be shown for U25 concessions at the entrance of the theater/hall on the day of the performance.

ON SALE

<Public> Jun.27.2015 / 10:00am-
<SAFMembers> Jun.20.2015 / 10:00am-